The Ultimate Guide to Comfort and Versatility: Ethos Sleeper, Hampton Sleeper with Reversible Chaise, and Fantasy Full XL Sleeper by Luonto Furniture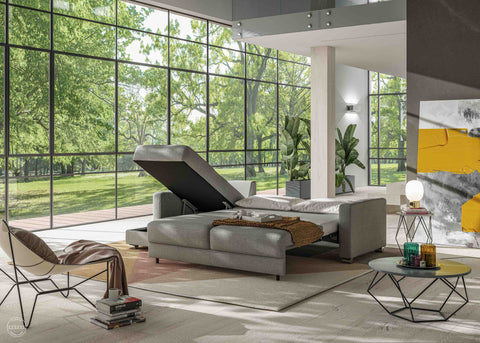 Sleeper Sofa Showdown: Ethos Sleeper, Hampton Sleeper with Reversible Chaise, and Fantasy Full XL Sleeper by Luonto Furniture
When it comes to furniture, comfort and versatility are paramount. Whether you have a small living space or frequently host guests overnight, having a reliable sleeper sofa can transform your home. In this blog post, we will explore three exceptional sleeper sofas: the Ethos Sleeper, the Hampton Sleeper with Reversible Chaise, and the Fantasy Full XL Sleeper, all designed by Luonto Furniture. Each of these sleepers combines modern style with practical functionality, offering comfort and adaptability for any situation. Join us as we delve into the features and benefits of these three remarkable pieces, helping you make an informed decision when choosing the perfect sleeper sofa by Luonto for your home.
Ethos Sleeper: Where Style Meets Unparalleled Comfort
The Ethos Sleeper stands out from the rest with its exceptional versatility. This remarkable sleeper sofa introduces the Nest Function, a user-friendly feature that effortlessly transitions between sitting and sleeping modes.  This innovative design ensures that neither style nor comfort is compromised, whether you're lounging during the day or enjoying a peaceful slumber at night.
Selecting the ideal size for any room is a breeze with the Ethos Sleeper. From the spacious King size sleeper to the more compact Cot size sleeper for cozy spaces, this sleeper sofa offers a diverse range of sizes to cater to your specific needs. Regardless of space limitations, you can revel in the comfort and convenience that this versatile piece brings to your home.
Experience a restful sleep with the Ethos Sleeper's high-quality foam mattress. Boasting a generous thickness of 5 inches, this mattress ensures optimal support and cushioning for a rejuvenating night's slumber.
Hampton Sleeper with Reversible Chaise: Versatility at Its Best
The Hampton Sleeper with Reversible Chaise combines functionality with comfort. The deep seating and plush cushions provide a cozy seating experience, while the hidden pullout mechanism effortlessly transforms the sofa into a spacious queen-size bed. The sleeper mechanism operates smoothly, ensuring a hassle-free transition from day to night.
In addition to its practicality, the Hampton Sleeper with Reversible Chaise also offers a convenient storage solution. The chaise section of the sofa lifts up, revealing a spacious compartment where you can store extra pillows, blankets, or other essentials. This clever design maximizes space utilization and helps maintain a clutter-free living area.
Fantasy Full XL Sleeper: Comfort and Convenience Combined
What sets the Fantasy Full XL Sleeper apart is its emphasis on convenience. With a smooth, effortless mechanism, you can quickly convert the sofa into a bed, saving you time and effort. Remarkably, the Fantasy opens with a mere 15-inch extension, making it an ideal solution for narrow rooms or limited layouts.
The innovative Level Function by Luonto ensures a conventionally cozy sleep experience, making it perfect for accommodating guests or enjoying restful nights yourself. The high-density foam mattress offers optimal support and comfort, ensuring that your guests enjoy a pleasant slumber.
Unwind in Ample Space and Tidy Surroundings Crafted specifically as a Full XL, the Fantasy provides an expansive area for you to stretch out and unwind in blissful relaxation. What's more, the finished storage compartment discreetly nestled beneath the seat offers a convenient haven for storing extra bedding and other essentials. Bid farewell to clutter and hello to an impeccably organized living space.
Investing in a high-quality sleeper sofa is a wise choice for those who value both style and functionality. The Ethos Sleeper, Hampton Sleeper with Reversible Chaise, and Fantasy Full XL Sleeper by Luonto Furniture all excel in delivering comfort, versatility, and durability.
Whether you prefer the modern elegance of the Ethos Sleeper, the adaptability of the Hampton Sleeper with Reversible Chaise, or the convenience and small footprint of the Fantasy Full XL Sleeper, each of these sleeper sofas is designed to enhance your living space and accommodate overnight guests effortlessly. By considering your specific needs and preferences, our Design Consultants can assist you in selecting the perfect sleeper sofa that fits seamlessly into your home, providing comfort and style for years to come.
At Skandinavia Contemporary Interiors, our in-store Design Consultants are ready to help you find the perfect sleeper sofa for years to come. So, sit back and relax, and let us do the work. Visit our store in Austin, Texas and we'll bring your vision to life.       
---
Share this post
---
---