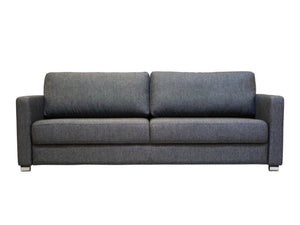 Fantasy Full XL Sleeper
Sleep arm to arm on the Fantasy Easy Deluxe.
Read More ↓
In Stock
Fantasy Full XL Sleeper Description
---
Introducing the Fantasy Full XL Sleeper: Unparalleled Comfort and Functionality

Introducing the Fantasy Full XL Sleeper by Luonto Furniture - a harmonious blend of contemporary design and state-of-the-art functionality. With its timeless style and smooth operation, this sleeper sofa stands out as a true gem in the market.

Experience the ultimate convenience with the Fantasy's effortless transformation. With just a single motion, this sleeper sofa seamlessly opens up to reveal a comfortable bed. Luonto's Level Function ensures a conventionally cozy sleep experience, making it ideal for both guests and everyday use.

Specifically crafted as a Full XL, the Fantasy offers ample room for you to stretch out and relax. Additionally, the finished storage compartment under the seat provides a convenient space to stow away extra bedding and other items, keeping your living area clutter-free. Remarkably, the sleeper opens up with a mere 15-inch extension, making it perfect for narrow rooms or spaces with limited layouts.

Notable Features:
Single Motion Sleeper: Effortlessly switch between sofa and bed configurations for enhanced ease of use.
Under Seat Storage: Utilize the finished storage compartment to conveniently store bedding and various items.
Gas Spring Assist: Enjoy smooth and easy to use operation thanks to the built-in gas spring assist mechanism.
Arm to Arm Sleeping: Indulge in a spacious sleep experience, as the Fantasy offers ample room to stretch out from arm to arm.
Foam Mattress: Sink into the comfort of the 5-inch (12 cm) thick foam mattress for a restful night's sleep. Customize your Fantasy Full XL Sleeper to match your unique style and taste.
Fabric Variety: Choose from an array of exquisite fabrics, including Fun 481 Charcoal, Rene 01, and Rene 04, each offering its own unique appeal.
Leg Options: Customize your Fantasy sleeper with either Walnut Stain on Birch or Chrome Metal legs, allowing you to match your personal style.

Elevate your living space with the Fantasy Full XL Sleeper by Luonto Furniture, where style meets functionality effortlessly. Discover the perfect blend of comfort, convenience, and contemporary design today.