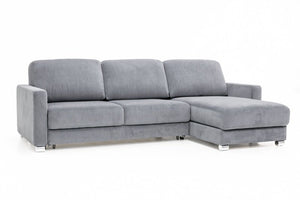 Hampton Sleeper with Reversible Storage Chaise
Hampton is a dream come true.
Read More ↓
Ships in 4-6 weeks
Hampton Sleeper with Reversible Storage Chaise Description
---
Transform Your Living Space with the Hampton Sleeper: Unmatched Comfort and Versatility

Introducing the Hampton Sleeper with reversible storage chaise by Luonto furniture—an absolute dream come true. This queen sleeper sectional combines unparalleled functionality with exquisite design, making it the perfect addition to any living space. With its innovative storage solution hidden within the reversible open-able chaise, the Hampton effortlessly combines style and practicality.

The reversible storage chaise in the Hampton Sleeper by Luonto furniture offers a range of benefits that enhance the functionality and versatility of this sectional.

Here are some key advantages:

Space Optimization: The reversible chaise allows you to maximize your living space by adapting to different room layouts. You can easily switch the orientation of the chaise, accommodating various floor plans and making the most efficient use of your available space.
Hidden Storage Solution: The storage compartment within the reversible chaise provides a discreet and convenient space to keep your belongings organized and within reach. Whether it's extra blankets, pillows, books, or remote controls, you can store them neatly in the chaise, reducing clutter in your living area.
Easy Access and Convenience: The storage chaise is designed for easy access, allowing you to quickly retrieve or store items without any hassle. The open-able design ensures that you can effortlessly lift the chaise and access the storage compartment, making it a practical solution for keeping essentials nearby.
Versatile Functionality: Beyond its storage capabilities, the reversible chaise serves as a comfortable seating option. You can lounge, relax, or stretch out on the chaise, providing a versatile and cozy spot for reading, watching movies, or simply unwinding after a long day.
The reversible storage chaise in the Hampton Sleeper offers space optimization, convenient storage, easy access, stylish design, versatile functionality, and customization options. Experience the benefits of this innovative feature and elevate both the practicality and aesthetics of your living space with the Hampton Sleeper by Luonto furniture.
In addition to its remarkable functionality, the Hampton Sleeper boasts an array of impressive features.
The dual motion sleeper mechanism ensures ease of use and guarantees a hassle-free transition.
The included foam mattress provides optimal comfort, measuring a generous 6 inches (13 cm) in thickness—ensuring a restful night's sleep for your guests.
To suit your personal style and preferences, the Hampton Sleeper offers a variety of leg options. Choose between sleek and modern Metal legs in Chrome, or opt for the timeless elegance of Solid Birch in Natural, Walnut, or Wenge finishes. For a touch of sophistication, Solid Oak legs in an oiled finish are also available.

With its unrivaled functionality, customizable options, and impeccable design, the Hampton Sleeper with reversible storage chaise by Luonto furniture is sure to transform your living space into a haven of comfort and style. Elevate your home with the Hampton Sleeper today.