How to Pick the Right Media Console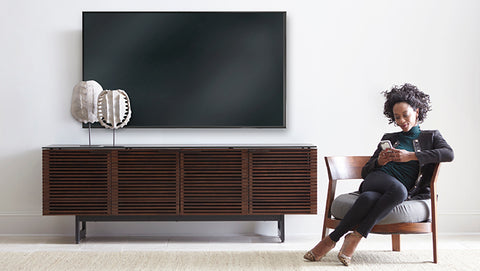 6 Expert Tips For Selecting A Media Console for Your Space And Personal Design Style
The home entertainment area is a focal point of any household. It's where you and your loved ones meet to watch movies, binge-watch TV shows, or host game nights. Having a space that emits the right ambiance is essential. That's why selecting a media console is no small task. Not sure where to start? We'll walk you through the most important steps:
---
1) Ask Yourself: What's My Style?
Your media console should fit your home's established design style. Is your home stocked with modern furniture, or is traditional more your aesthetic? Maybe you're somewhere between classic and contemporary. Also consider your existing finishes. Does your home have a lot of polished steel, glass and gloss? Or, is it more neutral with wood and natural finishes? Determining your interior style can get you one step closer to choosing a TV stand that's right for you.
2) Size Up Your Space
This step is an essential one when picking your media stand. Measure the size of your space and where the console will be placed. Does the size of the TV stand allow for enough wall space? Or will it look overcrowded? Are necessary outlets close enough to plug in all of your AV components? You should also measure the size of your TV to ensure the console matches up correctly. Ideally, the media console should be 4 to 10 inches longer than the length of your television. Make sure the base will rest safely and securely, keeping your TV protected from unexpected mishaps. You can also add in a wall mount for extra protection, like the BDI Arena 9970 or Arena 9972, which saves surface space or frees up your media console to display favorite décor pieces.
3) Take Inventory
You'll definitely need to take a look at everything you plan to store. Does your preferred media console have enough compartments for your streaming devices, speakers, or gaming console? Leave space for any electronics or gadgets you may want to add in the future, too. Note that – due to heat-safety reasons – some items can be stacked while others cannot.
4) Know Your Needs
Specific needs can be different depending on your electronic equipment and the home theater you've envisioned. Do you need perforated doors, so sound doesn't get muffled and your remote-control connection won't be blocked? Do you want closed compartments, or open shelving for easy equipment access? Work these requirements out ahead of time and your decision-making process will be a smooth one.
5) Pick Your Features
At Skandinavia Contemporary Interiors, we are big fans of BDI Furniture and its collection of eye-catching, high-quality modern furniture. Their versatile pieces are innovative, functional and incredibly stylish. We love that BDI Furniture creates designer pieces that are accessible to everyone. Truly, there are countless features to help you craft a personalized home entertainment area, including:
Adjustability
Features like adjustable shelves are a must when rearranging your everchanging electronic systems. Having adjustable shelves lets your media console grow with your needs and style.
Portability

A feature that will make your life easier: movability. Whether you're doing a seasonal cleaning or need to access your connections, the conveniently hidden wheels let you effortlessly move the entire console away from the wall for easy access.


Cable Management & Accessibility
Keeping your space clean and neat is key. An integrated wire management system keeps everything organized and out of sight. Need to reach your cable wires? Removable panels give you access to compartments with ease.
Ventilation

We all know that our electronics generate a lot of heat, especially if we are using them often. Luckily, built-in ventilation features let heat safely escape and improve airflow while still looking sleek and stylish.


Security 
Keep your family and small children safe with precautional features such as safety straps that attach to your cabinet. And, don't forget to use a TV mount to secure your screen in place!
6) Add A Personal Touch
As Design Consultants, this just might be our favorite part! Express your personal style by adding a few unique pieces to your home theater area. For a casual feel, add baskets, books, or pillows to your shelves. Aiming for a more sleek and sophisticated ambiance? Add vases, bowls, or pieces of art for a sophisticated style. Of course, if you're a minimalist, you'll likely want to leave the space as clean as possible. Honestly, a media console from BDI Furniture can be a style statement in and of itself.
Before We Wrap Up, A Look at 4 Unique Consoles
The Corridor 8179 TV Stand by BDI Furniture is bold and striking. It's a modern media cabinet that can handle almost any electronic equipment and is built to last. Easy on the eyes and wildly functional, the Corridor 8179 is design with the modern homeowner in mind.
The Olis 9650 by BDI Furniture is refined and sophisticated. It's a mid-century media stand ideal for small space living. Louvered doors effortlessly conceal your sound system, and its rich and warm look will fit flawlessly in your living room.
The Radius 8839 by BDI Furniture is sophisticated and elegant, but still bold and modern. Ideal for everyday media use or even as general storage in an entryway, its adjustable shelves make it a convenient stage for daily essentials and an organized environment.
Make a statement with the stylish and dramatic Tanami 7109 by BDI Furniture. This media console loves attention – in fact, it commands it. With artfully sculpted doors that feature a fluid and contrasting design, the dynamic storage credenza is a real conversation starter.
Looking for more style inspiration or have additional questions about choosing a media console? Our expert Design Consultants are available to help you design a space that is uniquely your own. Leave a note in the comments below or contact us directly.
---
Share this post
---
---