How to Choose an American Leather Comfort Sleeper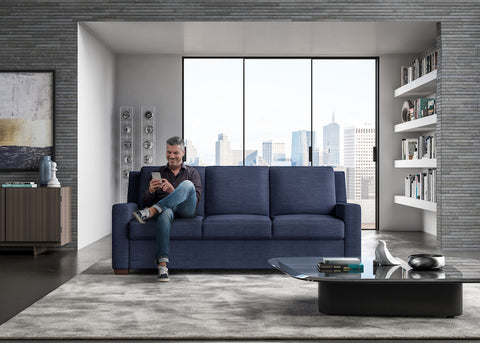 A Design Expert's Tips on How To Choose The Perfect American Leather Comfort Sleeper
When we at Skandinavia Contemporary Interiors talk about sleeper sofas, we're not talking about your run-of-the-mill, paper-thin-mattress pull-out couch. We're talking about the Comfort Sleeper by American Leather – a luxurious, versatile and incredibly comfortable sleeper sofa with sophisticated styling, American Leather's patented Tiffany 24/7™ Sleep System, and endless options to customize the fit, look and feel with leather and high-performance textile finishes.
---
The ability to customize a Comfort Sleeper is one of its biggest benefits. Not only do we carry 18 different styles from American Leather, with 3 exclusive styles to Skandinavia. We have comfort sleepers – from modern to transitional silhouettes – but each sleeper sofa also comes with your choice of material, color, finishes and mattress, and even add-on design features like nail-head trim or down-encased foam seat cushions on specific models.

With so many options, it can be overwhelming to decide which Comfort Sleeper is right for your space and style. But that's what we're here for! Let's dive into our expert overview of how to select the perfect American Leather Comfort Sleeper for your home and interior style.
First, A Crash Course on Comfort Sleepers
What is a Comfort Sleeper?
Currently, American Leather offers two models of their popular sofa sleeper. The first is the Original Comfort Sleeper, which is available in sizes from Cot to King and offers luxurious support through the brand's patented platform that is incredibly comfortable to sleep on. The American Leather Comfort Sleeper is built with no bars, no springs, and no sagging. The mattress options are extremely supportive and deliver an unmatched level of relaxation. The Comfort Sleeper Silver Collection comes in sizes Twin to Queen Plus, a variety of styles, and at a more affordable level of luxury.
What makes the American Leather Comfort Sleeper so unique?
Other than an incredible night's sleep, a top feature is the endless options for customization. American Leather's sleeper sofa can be designed to complement your existing aesthetic, or introduce a fresh look and feel to a room. No matter which style you choose, we promise that it will provide your and your guests the ultimate sleep experience.
Measure Your Space
Before you begin designing your perfect sleeper sofa, measure the area where it will be placed, so that you know what you're working with. Do you have a small space? No problem! American Leather's sofa sleepers can be disassembled for easy transport and setup in a tiny space. Sizes up to Queen are ideal for smaller rooms and small space living. (You can also peruse some of our unique storage pieces to help stock necessities like pillows and blankets neatly in your home.) Working with a larger space? The possibilities are practically endless! Configuring a Comfort Sleeper with American Leather's matching sectionals will add seating space and a personalized look and feel.
Select Your Style
If You Love Modern and Contemporary Looks…
You'll want to consider models like the Bryson Comfort Sleeper, which boasts just the right amount of fashion-forward European flair. We love this sleeper sofa because its unique design is comfortable and inviting. This modern masterpiece offers brushed stainless-steel legs and sleek, thin track arms.


If You're More Into Transitional Styles…
Consider the Pearson Comfort Sleeper.
It's an effortlessly modern but classic style that won't go unnoticed. With slim track arms and a solid wooden base plinth, the Pearson is one of the most polished and refined pieces in the sleeper collection.


If You're More Of A Traditionalist…
The Madden Comfort Sleeper by American Leather is a classic choice with a contemporary twist. It's refined and traditional, but far from boring. The classic track arm and flat French welt make this a timeless staple in your home. Add-on down-cushioned seating for a cloud-like, sink-into-luxury comfort experience.
Choose Your Mattress Type
When it comes to the American Leather Comfort Sleeper, Skandinavia Contemporary Interiors has several mattress options to choose from, including:

· Premier: Featuring 5" of supportive memory foam, the mattress is ideal for those who prefer firm support. This mattress is in it for the long run as it is waterproof, stain-proof, and dust resistant, scoring you years of protection.

· Gel: The gel-infused cooling foam mattress is soft and supportive. If you are someone who tends to warm up while you sleep, this is an excellent option for you because it absorbs body heat.

· Tempur-Pedic: American Leather Comfort Sleeper Sofas give you the support you desire out of a Tempur-Pedic mattress. This mattress conforms to your body, providing hours of sweet sleep.
Choose The Fabric or Leather for Your Lifestyle
The beauty of American Leather's Comfort Sleeper Collection is that you can create a sleeper sofa that is personalized to your unique space and style. Fabric, color, pattern and durability – they're all open to customization. We do have some words of wisdom when it comes to the selection the fabric of leather, though.
For example, in high-trafficked homes and spaces where stains are likely, we recommend a strong but sophisticated selection of high-performance fabrics from the Sunbrella, Crypton or Toray Ultrasuede lines. These are designed to exceed expectations and are easily cleanable and ultra-resilient. We also offer Italian and Scandinavian leather in 150+ varieties of colors, finishes and durability levels, providing sleek and luxurious design options for every style.
Other materials include smooth velvets, linens, plush chenille and stylish prints.
Truly, there are so many design possibilities when it comes to creating your American Leather Comfort Sleeper. If you're not sure where to start, our Design Consultants at Skandinavia Contemporary Interiors are happy to help you design the perfect piece for your space and lifestyle. Custom sofa sleepers are delivered in approximately 6 weeks.
And, if you're in a hurry, we also stock several models that are available for immediate delivery. Our Design Consultants are always ready to help bring-to-life the space of your dreams.
If you have any questions, feel free to leave a comment on this blog post or get in touch directly!
---
Share this post
---
---