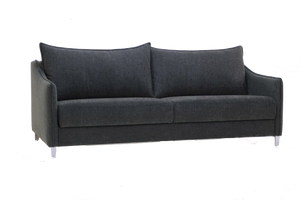 Ethos
Style and versatility come together with the Ethos.
Read More ↓
In Stock
Ethos Description
---
Experience Unmatched Comfort and Style with the Ethos Sleeper by Luonto.
Introducing the Ethos Sleeper by Luonto, where comfort meets style. With its distinctive sloping arms and welted detailing, the Ethos Sleeper Sofa exudes timeless appeal, creating a welcoming atmosphere for you and your guests. What sets the Ethos Sleeper apart is its versatility. Combining style with practicality, this sleeper sofa features an easy-to-use Nest Function that allows you to seamlessly transition between sitting and sleeping modes. Experience the unparalleled comfort as a portion of the mattress nests perfectly below the seat, while the other portion effortlessly tucks away in the back of the frame. Rest assured, this innovative design ensures that neither style nor comfort is compromised, whether you're lounging or enjoying a peaceful slumber.
Choose the perfect size to suit any room with ease. From the spacious King size option to the more compact Cot size, the Ethos Sleeper offers a range of sizes to cater to your specific needs. No matter the space limitations, you can enjoy the comfort and convenience of this sleeper sofa.
The Ethos Sleeper is equipped with a high-quality foam mattress that ensures a restful sleep experience. With a thickness of 5 inches, the mattress provides optimal support and cushioning for a rejuvenating night's sleep. Say goodbye to uncomfortable sleeping arrangements and embrace the indulgence of a plush sleeping surface.
Personalize your Ethos Sleeper to match your unique style and taste.
Select from two fabric options, Oliver 515 or Oliver 173 that are part of a quick ship program or select from over 30 fabrics and leathers to personalize your space.
Select between Chrome Metal Legs or Walnut on Birch, allowing you to tailor the look of the sleeper to seamlessly integrate with your existing decor.

Experience comfort, style, and versatility with the Ethos Sleeper by Luonto. Whether you're entertaining guests, relaxing with a book, or enjoying a peaceful night's sleep, this sleeper sofa offers the perfect blend of functionality and aesthetics.