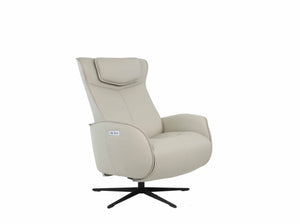 Fjords Medium Axel Power Recliner
Ships in 4-6 weeks
Fjords Medium Axel Power Recliner Description
---
Discover the Unmatched Comfort of Axel Medium Recliner by Fjords

Introducing Axel, the latest addition to Fjords' line of exceptional recliners. Axel is a stylish and modern swivel chair that combines the signature comfort of Fjords' classic recliners with advanced features for a truly luxurious experience. Designed with your comfort in mind, Axel boasts a dual motor, concealed footrest mechanism that provides continuous support for your legs and back, allowing you to effortlessly relax and unwind.

The sleek and modern design of Axel is sure to complement any decor. The chair is available in all of Fjords' high-quality leather options, and additional custom order options are also available. Whether you prefer a classic or contemporary look, Axel is sure to fit seamlessly into your home.

With its high resiliency molded foam, Axel is engineered for long-lasting comfort. The easy-to-operate dual power reclining system allows you to adjust the footrest and back position independently, providing you with the perfect amount of support for any activity, from reading to watching TV. The adjustable headrest angle also ensures that you can find the perfect position for your head and neck, further enhancing your comfort.

Axel is available in two sizes, medium and large, to ensure the perfect fit for any body type. The moveable head pillow adds an extra layer of comfort, while the manual release adjustable headrest angle allows you to easily adjust the chair to your preferred position. The chair also features a swivel base, allowing you to effortlessly rotate and find the perfect viewing angle for your favorite TV shows or movies.

Dual motor, concealed footrest mechanism for continuous support of legs and back.
High resiliency molded foam for long-lasting comfort.
Dual power reclining system for easy adjustment of footrest and back position.
Adjustable headrest angle and moveable head pillow for extra comfort and neck support.
Swivel base for easy rotation and optimal viewing angles.
Available in medium and large sizes for a perfect fit.
Luxurious leather options for a sophisticated touch to home decor.
Custom order options for leather and fabric to match personal preferences. Relax in Comfort and Style with the Axel Power Recliner

In addition to its stylish design and advanced features, Axel is also part of Fjords' quick ship program, it is available in Soft Line leather in Ice and Shadow Grey for fast delivery in approximately 3-5 weeks. However, if you prefer a different leather or fabric option, custom orders are also available.

If you're looking for a stylish and modern recliner that offers unparalleled comfort, look no further than Axel. With its advanced dual motor, concealed footrest mechanism, high resiliency molded foam, luxurious leather, and easy-to-operate power reclining system, Axel is sure to become your new favorite place to relax and unwind. Available in two sizes and a range of leather and fabric options, Axel is the perfect addition to any home.

At Skandinavia Contemporary Interiors, we have a team of in-store Design Consultants that are eager to help you find the perfect fit that will last for years to come. Relax and let us do the work. Come see us at our Austin, Texas location, and we'll bring your vision to life.