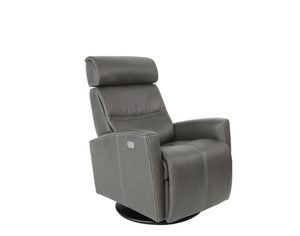 Fjords Large Milan Swing Relaxer with Power
In Stock
Fjords Large Milan Swing Relaxer with Power Description
---
Experience Ultimate Comfort and Functionality with the Fjords Large Milan Power Recliner
If you're looking for a recliner that combines both comfort and function, the Fjords Milan power recliner is the perfect choice for you. Designed with your relaxation in mind, this sleek swivel chair offers the distinct comfort of Fjords' classic recliners with the modern function of a motorized glider/rocker/recliner.
The Milan isn't just about looks and comfort – it's also designed to provide the correct support for your body. The adjustable headrest height and angle allows you to find the perfect position for your neck and head, while the engineered steel frame and no-sag springs ensure that your lower back is properly supported.
The Milan power recliner is also available in both motorized and manual versions, providing you with the flexibility to choose the best option for your needs. The motorized version allows you to adjust the chair's position effortlessly, while the manual version gives you more control over the chair's movements.
The Milan comes in both small and large sizes, to select the one that fits you best. Plus, with a swivel/glider/rocker function, you can customize your seating experience even further.
Motorized glider/rocker/recliner functionality
Cold-cured molded foam cushions for superior comfort
Top grain leather covers for an elegant look and durability
Adjustable headrest height and angle for ergonomic seating
Engineered steel frame and no-sag springs for long-lasting support
Available in small and large sizes to cater to different body types
Sleek black base as standard
Available in both motorized and manual versions for flexibility and convenience.
Unwind in Style with the Large Milan Power Recliner.
The Fjords Milan power recliner boasts of its standout feature - the cold cured molded foam cushions. This unique feature ensures that the foam is cured at a low temperature and molded to the frame, resulting in a highly durable and comfortable cushion that retains its shape and density over time. The cushion does not compress over time, ensuring that you can enjoy your recliner for years to come without worrying about it losing its shape or support. The cold cured molded foam cushions of the Milan power recliner provide the perfect combination of comfort and durability that will leave you feeling relaxed and refreshed after a long day.
The Fjords Milan power recliner is a comfortable and functional recliner that combines the best features of a classic recliner with modern functionality. It is built to last, easy to use, and offers an ergonomic seating experience that ensures you stay comfortable throughout your sitting experience. The chair is available in Small and Large and is available in 3 Quick Ship leather or special order in a wide range of fabric and leather choices, making it a perfect fit for any home.
If you're looking for a high-quality recliner that will provide you with years of comfort and relaxation, the Fjords Milan power recliner is the perfect choice for you.