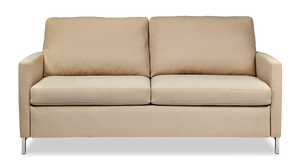 Bowie Comfort Sleeper
Ships in 4-6 weeks
Bowie Comfort Sleeper Description
---
Slim, Sleek and Contemporary, Meet The Bowie Comfort Sleeper by American Leather
Featuring pencil-thin arms and a low profile, the Bowie Comfort Sleeper by American Leather has beautiful, modern appeal. This design is exclusive to Skandinavia Contemporary Interiors, so you can relish in the fact that you'll own one a truly unique piece of furniture. The metal post leg adds sleek appeal and its small footprint is perfect for those in urban spaces. The Bowie Comfort Sleeper by American Leather is small in size but big on style and features an 80" mattress for all-night comfort. Choose from up to 7 bed sizes—from Cot to King—and enjoy American Leather's patented Tiffany 24/7 platform sleep system, which is free of uncomfortable springs and bars. Three mattress sizes are available to suit your taste: Tempur Pedic, Premier Foam and Soft Gel.
Customize The Bowie Comfort Sleeper by American Leather
Like all of American Leather's Comfort Sleeper Sofas, the Bowie is highly customizable. Personalize the sleeper sofa with any fabric or leather material of your choosing. For high-trafficked homes and spaces where stains are likely, we recommend a durable but sophisticated selection of high-performance fabrics from the Sunbrella, Crypton or Toray Ultrasuede lines. These textiles are engineered to exceed expectations, and are easily cleanable and ultra resilient. We also offer Italian and Scandinavian leather – available in 150+ varieties of colors, finishes and durability levels – that provide contemporary design options for every style.
Additional Design + Product Options
Mattress Selections + Bed Sizes
Skandinavia Contemporary Interiors offers three mattress options for The Bowie Comfort Sleeper by American Leather:
Premier: Featuring 4" of plush memory foam and Crypton mattress ticking that's stain proof, this is ideal for those who prefer firm support. It's waterproof and resistant to dust mites and allergens, adding years of protection to your investment.
Gel: Plush and cooling gel-infused foam is soft and supportive, and a favorite among those that sleep warmer than most. It's comfortable and excellent at absorbing body heat.
Tempur-Pedic: American Leather Comfort Sleeper Sofas are the only sleepers offering the luxury and support of a Tempur-Pedic mattress. You'll love how the foam adapts to your body, providing hours of lavish comfort.
Bed sizes range from Cot to King.
Choose from King, Queen Plus, Queen, Full, Twin, Cot and Double Cot Sizes
Legs Available in the Following Finishes
Brushed Stainless Steel
Acorn
Espresso
Walnut


Add-On Design Features
Down-encased high-resiliency foam seat cushions and back cushions for the ultimate plush sit
The Bowie Comfort Sleeper coordinates beautifully with other American Leather pieces, so you can build out sectionals or pair it with a matching non-sleeper sofa, loveseat or recliner to anchor any room with a slim and sleek centerpiece.
This custom Comfort Sleeper takes just 4-6 weeks for delivery and is skillfully constructed right here in Texas.


Download the Spec Sheet for Complete Bowie Comfort Sleeper Collection