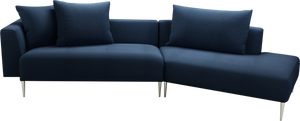 Wellington Sectional
Made in Montreal by G. Romano Read More ↓
Stocked in Husky Navy with a Matte Black Leg.
In Stock
Wellington Sectional Description
---
The Wellington Sectional: Modern European Elegance
Introducing the Wellington Sectional, expertly crafted by the skilled hands of G. Romano in the heart of Montreal, Canada. The Wellington stands as the essence of Modern European design, combining sleek lines with unparalleled comfort. A masterpiece in contemporary furniture, style, and comfort.
Indulge in pure bliss with this sectional featuring a luxurious memory foam seat cushion. The accompanying toss pillows are generously filled with feather and down echancing you're lounging experience.
The Wellington's legs, a defining element, come in three finishes:
Brushed aluminum, matte black, and satin brass, allowing you to customize the piece to your preference and interior aesthetic.
Material Selections:
The Wellington offers a vast selection of fabrics, providing you with countless choices.
Our team of experienced design consultants is here to assist you, to help you select the perfect fabric for your home. Experience true personalization and customization, tailored to your unique style and preferences at Skandinavia,