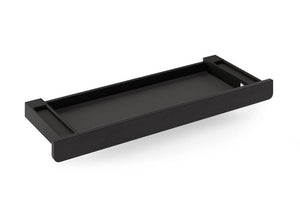 Soma 6359 Lift Desk Drawer
Designed for Soma 6351 and 6352 Lift Desks Read More ↓
by BDI Furniture
Ships in 4-6 weeks
Soma 6359 Lift Desk Drawer Description
---
Introducing the Soma 6359 Storage and Keyboard Drawer, your ultimate solution for a clutter-free workspace.
This innovative accessory offers a convenient way to keep your office supplies within reach while maintaining a sleek and organized environment.
Designed to seamlessly integrate with the Soma 6351 and 6352 Standing Desks, the Soma 6359 drawer is a perfect complement to your ergonomic setup. Its flip-down front provides a dedicated space for your keyboard and mouse, ensuring easy access whenever you need them. The drawer also features practical side compartments, ideal for storing pens and other small essentials, keeping them secure and readily available.
Crafted with a non-slip, mouse-friendly liner, this drawer goes beyond traditional storage solutions. Not only does it keep your belongings in place, but it also offers added comfort for your wrists when using a keyboard. The liner doubles as a mousepad, providing a smooth surface for precise cursor movement.
At the end of the workday, simply tuck away the drawer, effortlessly concealing its contents and maintaining a clean workspace. Upgrade your office organization with the Soma 6359 Storage and Keyboard Drawer and experience the perfect blend of functionality and style.