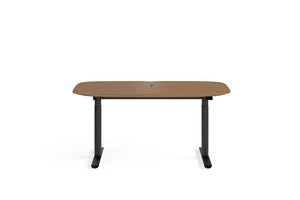 Soma 6351 Lift Desk
Elevate your workspace. Read More ↓
by BDI Furniture
Ships in 4-6 weeks
Soma 6351 Lift Desk Description
---
The Soma 6351 Lift Desk: Redefine Your Workspace with Style and Functionality
Introducing the Soma 6351 Lift Desk by BDI Furniture, the perfect blend of style, functionality, and ergonomic design. This 60-inch height-adjustable standing desk is engineered to revolutionize your work environment, providing a multitude of features and benefits that will enhance your productivity and overall well-being.
Features:
Height Adjustability: The Soma 6351 Lift Desk allows you to effortlessly transition between sitting and standing positions with its smooth and quiet lifting mechanism. With a generous height range of 24.75 to 49.75 inches, this desk accommodates users of all heights, promoting better posture and reducing the strain on your back and neck.
Spacious Work Surface: With its ample 60-inch width, the desk provides ample space to accommodate multiple monitors, laptops, and other work essentials.
Cable Management: Say goodbye to tangled cables and cluttered workspace. The Soma 6351 Lift Desk features an integrated cable management system that keeps your cords organized and out of sight, providing a clean and distraction-free work environment. Benefits:
Health and Well-being: By incorporating standing into your work routine, you can enjoy numerous health benefits, including improved blood circulation, increased energy levels, and reduced risk of chronic diseases associated with prolonged sitting. The Soma 6351 Lift Desk empowers you to take control of your well-being, making it easier to stay active and combat the sedentary lifestyle.
Customizable Ergonomics: The adjustable height feature enables you to find your ideal ergonomic position, allowing for better alignment of your body, reduced muscle fatigue, and increased focus and productivity. Find the perfect balance between sitting and standing to optimize your comfort and performance throughout the day.
Aesthetically Pleasing Design: The Soma 6351 Lift Desk combines functionality with contemporary design, adding a touch of elegance to any workspace. Its clean lines, contoured comfort edge, and slim profile make it a stylish addition to both home offices and professional work environments. Personalize your Soma 6351 Lift Desk.
Select from 2 Finishes, Ebonized or Natural Walnut.
Add the 6359 Soma Storage Drawer.

Experience the ultimate in versatility and comfort with the Soma 6351 Lift Desk from BDI Furniture. Transform your work routine and elevate your productivity while prioritizing your health and well-being. Upgrade to the Soma 6351 Lift Desk today and revolutionize the way you work.

Expert Guidance for Flawless Space Enhancement: Rely on our Approachable Design Consultants to Assist You in Discovering the Ideal BDI Piece, Backed by Exquisite Craftsmanship.