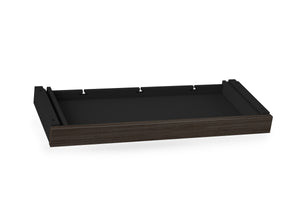 Sequel 20 6159 Storage Drawer
Ships in 4-6 weeks
Sequel 20 6159 Storage Drawer Description
---
Keep Important Essentials Close At-Hand With The Sequel 20 6159 Optional Storage Drawer
Add even more functionality to your Sequel office with the Sequel 20 6159 Optional Storage Drawer by BDI Furniture. Paired with the Sequel 20 6152 Lift Desk, it's lined with quality non-slip material to keep items secure and organized, and tucks away neatly when not in use. An electronically powered sit-stand desk like the Sequel 20 6152 can inject versatility and heart-healthy movement into your average workday. The lift desk's ergonomic design makes it extra comfortable and an easy-to-use keypad takes you from sitting to standing and back again with the touch of a button.
Sequel 20 6159 Optional Storage Drawer: Striking Features, Serious Style
The Sequel 20 6159 Optional Storage Drawer is available in Chocolate Stained Walnut, Natural Walnut, Charcoal Stained Ash.
Designed by Matthew Weatherly
Skandinavia Contemporary Interiors offers an array of electronically powered sit-stand desks that are available for immediate delivery. Or, special orders can arrive in as little as 3 to 5 weeks.
Need help designing your own one-of-a-kind workspace? Come meet with one of our in-store Design Consultants and create an office that shows of your unique work style.