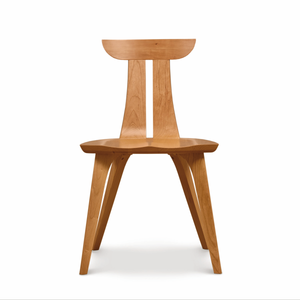 Estelle Dining Chairs
Ships in 4-6 weeks
Estelle Dining Chairs Description
---
The Estelle dining chair from Copeland furniture is a modern classic, with its elegant curves and minimalistic design..
Crafted from high-quality solid hardwood, this chair is both sturdy and stylish, with a comfortable contured seat that provides long-lasting comfort during extended meals. The Estelle dining chair's curved backrest gently supports the body, while its tapered legs add a touch of sophistication to any dining space.
Available in a range of solid wood options, including:
Solid Black American Walnut
Solid Natural Cherry
Solid Cherry with an Autumn Finish
Solid Cherry with a Cognac Finish
Solid Cherry with a Saddle Finish
Solid Cherry with a Smoke Finish
This chair can be customized to fit any décor style.

With its timeless design and exceptional craftsmanship, the Estelle dining chair from Copeland Furniture is the perfect addition to any dining room.  
Why we love Copeland Furniture
Copeland Furniture has a unique modern design aesthetic that's deeply influenced by its natural surroundings. The brand doesn't just find inspiration in nature; it helps to preserve it, too. Stewardship and sustainability run deep at Copeland Furniture. Hardwoods are sustainably harvested within 500 miles of its factory, which minimizes the carbon footprint and lessens dependency on fossil fuels. Their heirloom-quality furniture – designed and crafted by some of the best in the business – is built to last generations. Copeland Furniture is also the recipient of Silver Exemplary Membership Status by Sustainable Furnishings Council and the Sage Award for environmental excellence from American Home Furnishings Alliance, and GREENGUARD Certified for low chemical emissions.
Transform your dining room into a stylish and elegant space with Skandinavia Contemporary Interiors' contemporary dining chairs.