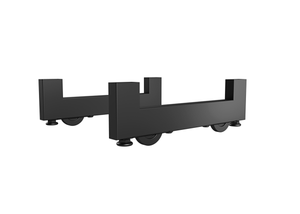 Corridor 8171 Low Leg Kit
In Stock
Corridor 8171 Low Leg Kit Description
---
Add Even More Versatility To Select Corridor Cabinets With Corridor 8171 Optional Low Leg Kit
The Corridor 8171 Optional Low Leg Kit by BDI Furniture allows you to decrease the height on Corridor 8177 and Corridor 8179 Media Consoles and the Elements 8777 and Elements 8779 Media Cabinet. The add-on accessory lets you replace the taller legs with legs that measure 4.7" (12 cm), reducing the overall cabinet height by 3.75" (9.5 cm).
Corridor 8171 Optional Low Leg Kit: Striking Features, Serious Style
Available in Black. Powder-coated steel is a top-of-the-line finish that's built to last.

Corridor 8171 Optional Low Leg Kit reduces overall cabinet height on select Corridor Media Consoles by 3.75". Hidden wheels allow for easy movement and versatility.
Designed by Matthew Weatherly
Skandinavia Contemporary Interiors offers an array of clean and contemporary home theater furniture that is available for immediate delivery. Or, special orders can arrive in as little as 3 to 5 weeks.
Work with us on designing your clean and modern media space. Meet with one of our in-store Design Consultants and we'll help you dream up a contemporary home theater that fits your personal needs.