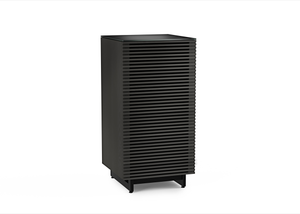 Corridor 8172 Audio Tower
Ships in 4-6 weeks
Corridor 8172 Audio Tower Description
---
Retro Styling Meets Modern Functionality with the Corridor 8172 Audio Tower by BDI USA
Music enthusiasts will fall in love with the Corridor 8172 Audio Tower by BDI USA, which offers a practical solution to your media storage needs in a stylish piece of furniture. BDI USA specializes in home entertainment systems that seamlessly integrate technology into your home with quality, modern media furniture. The Corridor 8172 Audio Tower is no different, offering plenty of storage for AV components, media or even a turntable in a decidedly stylish audio tower.
Explore the Corridor 8172 Audio Tower by BDI USA
With its hardwood louvered doors and top glass surface, the Corridor 8172 Audio Tower perfectly complements the Corridor line of TV stands by BDI USA. The doors can be mounted to open to the left or right and a concealed power strip is nestled within the top glass surface, making it a perfect perch for that turntable. Inside, you'll find plenty of storage space for additional components and media storage. Adjustable shelving allows for plenty of flexibility while cable management will keep cords clutter-free. Flow-through ventilation will protect your equipment from overheating, and removable back panels allow for easy access whenever you need. The Corridor 8172 Audio Tower is available in chocolate stained walnut, or a charcoal stained ash finish.
Designed by Matthew Weatherly
To learn more about the Corridor audio tower or other BDI media solutions, stop into our Austin, Texas showroom today.