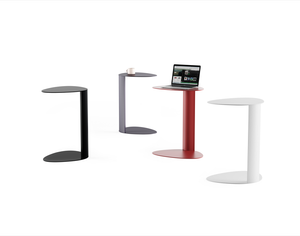 Bink 1025 Laptop and Side Table
Ships in 4-6 weeks
Bink 1025 Laptop and Side Table Description
---
Always by your side, Bink is the perfect companion anywhere you work or relax. Whether serving as a laptop table while you're working at the sofa, keeping beverages close by while lounging poolside or simply snacking in front of the TV, this convenient mobile side table goes anywhere you want.
BDI Furniture's C-Shaped Bink 1025 Laptop & Side Table Keeps Daily Essentials Within Reach
Searching for the perfect sofa-side companion? Your hunt ends here. The Bink 1025 Laptop & Side Table by BDI Furniture provides a convenient and stylish work surface for your laptop, tablet or favorite books, magazines and Sunday newspaper. With a base that slides under furniture, the Bink 1025 side table takes up minimal space but packs endless personality into its slim and trim powder-coated aluminum and steel body. It's even durable enough for part-time outdoor use – just make sure to protect the Bink 1025 laptop table from excessive moisture and direct sunlight. With a handful of sharp and eye-catching color options, you're sure to find a Bink 1025 Laptop & Side Table to match your individual aesthetic.
Bink 1025 Laptop & Side Table: Striking Features, Serious Style
Available in Salt, Pepper, Mineral and Cayenne.

Powder-coated aluminum and powder-coated steel are top-of-the-line finishes that are built to last.

The Bink 1025 features a unique c-shape design that makes it an ideal sofa-side table.
Designed by Matthew Weatherly
Skandinavia Contemporary Interiors offers a wide variety of laptop and side tables that are available for immediate delivery. Or, special orders can arrive in as little as 3 to 5 weeks.
Need help creating a living space that inspires? Our in-store Design Consultants are ready to help you bring your minimalist design dreams to life.