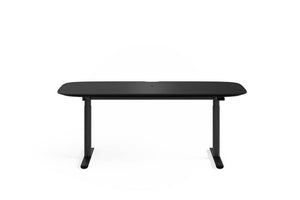 Soma 6352 Lift Desk
Stylish. Adjustable. Efficient. Productive. Soma. Read More ↓
by BDI Furniture
Ships in 4-6 weeks
Soma 6352 Lift Desk Description
---
Introducing the Soma 6352 Lift Desk: Redefining Productivity and Style
Experience the perfect blend of style, functionality, and ergonomic design with the Soma 6352 Lift Desk. Crafted to elevate your workday, this executive-sized standing desk combines elegant aesthetics with cutting-edge features, making it an indispensable addition to any modern office space.
Choose Your Perfect Size:
Available in two desktop sizes, 60" and 72", the Soma 6352 Lift Desk offers ample space for your work essentials. Whether you prefer a compact setup or crave extra room for creativity, we have the perfect size to cater to your needs. Plus, you have the option to add an optional keyboard drawer for enhanced organization and convenience.
Effortless Height Adjustment:
Say goodbye to static workstations and hello to personalized comfort. The Soma Lift height-adjustable standing desk adapts effortlessly to your preferred working height. Simply engage the sleek digital control paddle with a gentle push or pull, and watch the desk smoothly glide to your desired position. The control paddle also offers programming capabilities for height memory, upper/lower limits, and measurement preferences, ensuring a seamless user experience.
Thoughtful Design Features:
BDI believes in designing office furniture that combines practicality with aesthetics, promoting productivity in a visually pleasing environment. The Soma 6352 Lift Desk is a testament to this philosophy, with its host of user-friendly features and attention to detail. The contoured edge of the desktop not only exudes elegance but also provides essential wrist support during long typing sessions, minimizing discomfort and enhancing productivity. Additionally, an optional keyboard and storage drawer with convenient compartments keep your essentials within reach while maintaining a clutter-free workspace.
Embrace the Details:
The Soma 6352 Lift Desk is not just functional; it's a statement piece. Its signature rounded details create a harmonious flow, from the contoured desktop to the round metal legs. A practical accessory hook can be installed on either side of the desk, providing easy access to your headphones, bags, or other gear, keeping your workspace organized and efficient.
Seamless Wire Management:
A cluttered workspace can hinder your focus and productivity. With the Soma Lift Standing Desk, wire management becomes a breeze. It features under-the-hood wire management solutions that keep your cables neatly organized, ensuring a clean and distraction-free environment. The desk comes with an included surge protector that can be mounted on either side, while a wire management cradle offers support and easy access when needed. A discreet magnetic cover conceals a channel that guides wires and charging cables down to the power strip, equipped with multiple AC outlets and USB connections.
Customization at Your Fingertips:
The Soma 6352 Lift Desk is designed to adapt to your preferences seamlessly. Install the control paddle on either the left or right side of the desk, catering to your individual needs. If you desire an elevated screen position, the desk is compatible with third-party monitor arms, maximizing your usable workspace and promoting better posture.
Unmatched Features:
The Soma 6352 Lift Desk is packed with features designed to enhance your work experience. From cable management and adjustable height to comfort edge and storage hooks, every aspect is carefully crafted to make your workday more efficient. Additional features like anti-collision control, monitor mount-friendliness, wiring cradle, child lock, and a digital control paddle further elevate the desk's functionality and user experience.
Discover the Soma 6352 Lift Desk, where style meets productivity, and witness a new level of workplace transformation.