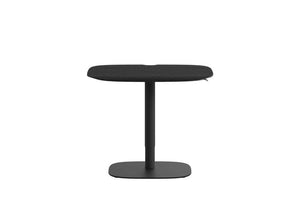 Soma 6331 Compact Lift Desk
Versatile. Adjustable. Compact. Ergonomic. Stylish. Read More ↓
By BDI Furniture
Ships in 4-6 weeks
Soma 6331 Compact Lift Desk Description
---
Introducing the SOMA 6331 Compact Lift Desk by BDI Furniture - Redefine Your Workspace
The Experience the ultimate in versatility with the SOMA 6331 Compact Lift Desk by BDI Furniture. Designed to create a workspace anywhere, this compact desk effortlessly adjusts for seated or standing use, granting you the freedom to work the way you prefer. With its innovative pneumatic column, this power-free desk can be placed in any location, giving you the flexibility to work from anywhere.
Work from Anywhere, Effortlessly
Unlock the power of a mobile office solution with the touch of a lever. The SOMA desk's desktop glides up or down on its pneumatic column, allowing you to effortlessly find the perfect height for your work style. Its smooth, contoured edges provide a comfortable workspace, whether you prefer working in a corner or proudly displaying it in the center of the room.
Thoughtful Design Features

BDI Furniture believes in creating office spaces that are organized, efficient, and inspire productivity. That's why they integrated user-friendly features into every aspect of the SOMA desk's design. With no need for power, this height-adjustable desk offers a versatile work solution for any location. Simply touch the lever, and seamlessly glide the tabletop to your preferred sitting or standing position.

A Solution for Every Workday

The SOMA 6331 Compact Lift Desk is designed to provide the perfect balance of functionality and mobility. Experience the freedom of movement that encourages productivity and a healthier workday. Whether you need to sit or stand, this desk has got you covered.

Enhanced Comfort

Say goodbye to wrist fatigue during extended typing sessions. The SOMA desk's contoured front edge provides ergonomic wrist support, ensuring your comfort while you work. Additionally, finger grooves beneath the desktop offer tactile grip, making height adjustments a breeze.

Say Goodbye to Clutter

Stay organized and focused on the task at hand with the SOMA desk's wire management features. A cable routing channel on the desktop and a wire management wrap underneath keep your workspace clutter-free. No more distractions, just uninterrupted workflow.

Tailor it to Your Liking

Customize your workspace to suit your preferences. The adjustment lever can be positioned on the left, right, or front of the desktop, allowing you to create a setup that works best for you.

Built to Last

The SOMA 6331 Compact Lift Desk boasts a solid construction that combines durability with elegance. Its powder-coated aluminum column ensures smooth height adjustments, while the weighted base provides a sturdy foundation. Integrated glides make it easy to relocate the desk whenever needed.

Features that Elevate Your Experience

Pneumatic Lift Mechanism for effortless height adjustments

Cable Routing Channel to keep your wires organized
Weighted Base for stability and durability
Adjustable Height Range of 29"—42" to accommodate your preferred working position
Wire Management Wrap for a clutter-free workspace
50 lbs. Weight Capacity for all your work essentials
Floor Glides for easy desk relocation

Elevate your workspace with the SOMA 6331 Compact Lift Desk by BDI Furniture. Embrace the freedom to work wherever you desire, enjoy enhanced comfort, and experience the productivity that comes from a well-organized and thoughtfully designed office solution.